Notary Public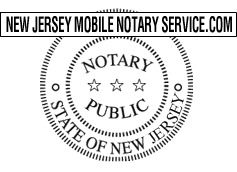 New Jersey Mobile Notary Services provides mobile notary and related services to clients throughout New Jersey and the New York Metropolitan area. We were the first company to introduce the concept of Mobile Notary services about 9 years ago, and since that time we have developed a loyal following of corporate and individual clients. Our success is based upon our proven track record of availability, accountability, professionalism and dedication to providing exceptional notary services. Building relationships and repeat customers is our goal. After using our services for the first time, most organizations and individuals become long term clients. Or if a one-time notarization is all you need, we are there for you as well.
We are an attorney driven firm with nine years of hands on experience. We are familiar with the various regulations, statues and procedures involved with proper notarization. In addition, we have advanced training from both the National Notary Association and the American Society of Notaries. The in-house staffs at our New York and New Jersey offices are available during business hours and are happy to answer any questions you may have. Our company will go above and beyond to satisfy our clients. Our services include, fingerprinting, notarizations, vital document retrieval, signing agent, apostille processing, and consular and embassy legalization.
At New Jersey Mobile Notary Service, our motto is:
"24 – 7 – 365, anytime – anywhere – everytime"
Visit our New Jersey Mobile Notary Service website to learn more.